2023 E-Commerce Trends & Expectations
Each year, many US businesses are urged to keep up with the changes and new trends in the e-commerce industry. One is the continued rise of online shopping and the increasing demand for fast and reliable shipping options.
Businesses can prepare for this trend by optimizing and investing in their e-commerce platforms. This includes making sure the platform is mobile-friendly, easy to navigate, and has a user-friendly checkout process.
Additionally, businesses should focus on offering various shipping options, such as next-day delivery and in-store pickup, on meeting the needs of their customers. Regarding shipping options, PackageHopper can deliver your goodies to over 150 countries worldwide! Click here to learn how.
Now, let's look at the most inevitable 2023 e-commerce trends!
E-Commerce expectations for 2023
As we're growing more environmentally conscious, the e-commerce trends for 2023 are likely to include an emphasis on sustainability, the incorporation of new technologies, and a focus on innovative brick-and-mortar offers.
Luckily, social media platforms like TikTok, Shopify, LinkedIn, and Pinterest keep track of these trends. They have recently released their trend reports for 2023, providing insight into what consumers can expect to see this year.
The 90s and early 2000s are here to stay
If you grew up adoring Clueless, 10 Things I Hate About You, and Charmed, you'll be thrilled to learn that the trend that is expected to shape the fashion industry for the n-th year in a row in 2023 is the incorporation of styles seen in movies from the 90s and early 2000s. These include slip dresses, tube tops, cargo pants, chokers, and claw clips.
Popular fabrics will include lace, tulle, and ruffles, and additionally, there is expected to be a surge in sci-fi-inspired accessories like Matrix-style glasses and futuristic streetwear.
This will be a great time for small (and larger) businesses to unleash their creativity and mix and match different colors, patterns, and materials, as this period was all about that. And if you have several vintage pieces that are to die for but not quite your style, some people are ready to pay a pretty penny to own them!
Regardless of what you're selling and how many pieces there are, PackageHopper will quickly deliver them to your buyers' doorsteps!
Self-care in all forms
We're stating the obvious here, but unless you live under a rock, chances are you've purchased or thought about purchasing a certain product because an individual influencer you trust recommended it.
Competition is fierce in the wellness, skincare, hair, and beauty industry, and companies will stop at nothing to get that specific person to represent their brand. So, if your brand and budget can afford it, find a suitable person to be the face behind the name. It's a trend that has worked for decades and has only become more available to businesses with the rise of platforms like Instagram and Pinterest.
And since our homes, i.e., their décor and cleanliness, can drastically affect our mood, 2023 will be an excellent time for profit for the e-commerce stores that offer home décor pieces, even if it's something as simple as homemade scented candles or sage. The most sought-after décor trends are expected to be eclectic and vintage. Floral, fantasy mushroom art, and vintage mushroom décor are expected to make a big comeback this year.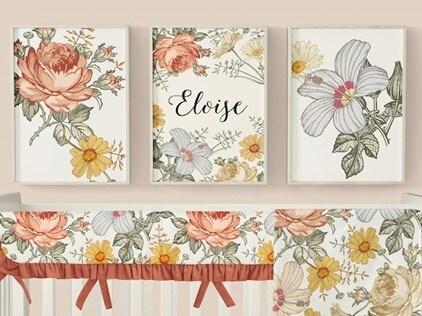 Travel trends for 2023
Who doesn't like to travel? Of course, it would've been great if we could skip the lines and waits between flights, but remember how bad it was back in 2020 when we couldn't go anywhere! Waiting a few hours to get to Bali isn't half as bad.
Although judging by the boards created and images saved, Pinterest predicts trains will return in 2023 as more people search for sustainable alternatives to car and airplane travel. We also seem to have learned to avoid overpriced tourist attractions and go for hidden gems like Ollantaytambo in Peru, Sharjah in the UAE, Tivat in Montenegro, Zamora in Spain, and so on.
When it comes to in-town attractions, experiential dates like going to bookstores, aquariums, picnics, and museums will get more popular.
This is a beautiful opportunity for everyone in e-commerce to offer their goods and, with the proper marketing, get an equal chance against industry giants.
eCommerce and technology in 2023
In terms of technology, artificial intelligence and Web3 will continue to be integrated across industries, with uses ranging from data collection to hospital machinery. In addition, sustainability will remain a priority for consumers and businesses, with more companies implementing sustainable practices.
Some of the trends that e-commerce platforms are expected to incorporate include, but are not limited to:
Artificial Intelligence and machine learning
In recent years, there has been a growing trend of using artificial intelligence (AI) and machine learning to improve the customer experience in e-commerce. This includes using chatbots to assist customers and answer their real-time questions. In addition, chatbots provide product information, help with ordering, and even provide personalized recommendations based on a customer's past purchases.
In addition to chatbots, AI and machine learning are also used to make personalized product recommendations to customers. By analyzing customer data such as purchase history, browsing history, and demographics, businesses can use AI to understand customers' preferences and suggest products they are more likely to be interested in.
This can be done through email marketing campaigns, on the business's website, or through personalized advertisements on social media.
Mobile Commerce
As more and more people are using their smartphones to shop online, it is becoming increasingly important for e-commerce businesses to optimize their websites for mobile viewing. This includes having a mobile-friendly design that is easy to navigate and quick to load on a smartphone. It also means having a seamless checkout process that customers can complete on their phones.
Businesses also use apps to connect with customers and improve their shopping experience. Apps can provide a convenient way for customers to browse and purchase products and access exclusive deals and offers. They can also send push notifications about sales and new products, which can help drive traffic to a business's website.
Social media and influencer marketing
Back to social media, you've probably figured by now that most businesses are nothing without a solid social media presence. Social media has become an integral part of e-commerce, with many businesses using platforms like Facebook, Instagram, and Pinterest to promote their products and interact with customers. Social media gives businesses a platform to showcase their products visually and engagingly and reach a wider audience than they might be able to through traditional advertising methods.
And, of course, the best, safest way to succeed in 2023 is to work with influencers in your niche. Businesses can work with influencers through sponsored posts, product reviews, or affiliate marketing programs.
Subscription and recurring payment models
The use of subscriptions and recurring payment models has become popular in e-commerce, particularly for products consumed regularly, such as groceries or household essentials. This model provides a convenient and hassle-free way for customers to receive their favorite products regularly. It can also benefit businesses, as it can help increase customer loyalty and reduce churn.
There are a few types of subscription models that businesses can use. For example, a company might offer a monthly subscription service where customers regularly receive a box of curated products. Alternatively, they might offer a subscription discount on a specific product or product category. Businesses can also use recurring payment models for products purchased less frequently, such as annual software licenses or monthly gym memberships.

Whatever you're selling, trustworthiness and loyalty are the two single most important factors that can make or break a business.
To sum up, these are just a few of the trends shaping the e-commerce industry in recent years and are likely to continue to be important in the future.
By staying up-to-date on these trends, finding ways to incorporate them into your business, and trusting PackageHopper with the delivery of your goods, you, as a company or an individual seller, can improve the customer experience and stay ahead of the competition.
What new trends do you think will benefit your business? Share with us on our Facebook, Instagram, or Twitter! We love reading your comments!