Baby Shower Gift Ideas for First-time Parents
Choosing a baby-shower gift can be a complicated task because there are so many products to look through, so many that you're not even familiar with! It's even worse when you're not able to be there to hand-off the gift in-person because your new-parent friends have moved overseas.
If you have no idea where to start, it's often recommended to ask the expectant parents if they need anything specific. This can help narrow down the endless search—and you'll know that your gift will be useful to the newborn and their parents.
When the parents haven't specified anything, we've done a bit of the initial legwork for you below! You'll find these items check off the most-wanted items on many new parents' lists. And everything can be shipped affordably to the new parents with PackageHopper
1. A Welcome-To-The-World Box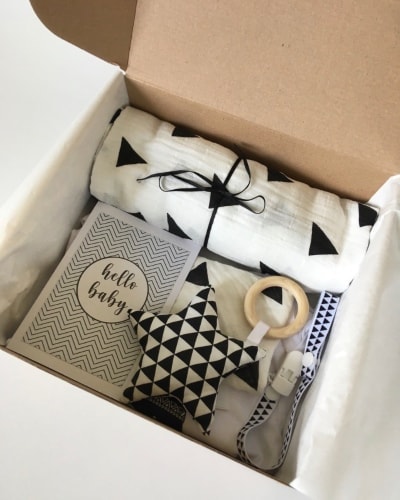 Like the name suggests, this is a box that can be of use during the hospital stay after birth, as well as the first days home. This is a gift box that you can either buy online pre-made or, for a personal touch, put together yourself.
The best welcome baskets can contain a blanket, wet wipes, diapers (size 1 for the teeny-tiny babe), rash cream, tearless and hypoallergenic balm, shampoo or body wash (chamomile and lavender are calming scents, but unscented is safest for unknown allergies), a bib, a plush toy, and anything else that might remind the parents of your presence from around the world.
The new parents will be thankful as these are items that they'll need right away and in the months to come.
2. A Baby Sling
If you are shopping for something that the parents will definitely be thankful for, a baby sling is a perfect gift. Carriers and strollers can be a more personal choice between the parents—and can become an issue when shipping due to their larger and bulkier packaging size—but a sling is perfect for carrying baby on walks around the block or a visit to the nearby park. It's also great because you don't need to know the parents' size as most are adjustable! A great gift for if you can't really judge sizing through the Zoom webcam.
Some baby slings, like this YOOVEE Baby Carrier, come with bottle and diaper/personal care kit holders, which means that there will be no need for the parents to carry around additional bags or backpacks, and may also offer lumbar support.
Even though many carriers are designed to fit newborns as light as 7 pounds (3.2 kg), it's recommended that you always check if there is a weight or age minimum.
2. Stroller Organizer
There is never enough space and pockets for everything that a baby might need for its walk, no matter how short. Parents will be appreciative of a stroller organizer that has enough space to fit pacifiers, milk and water bottles, wet wipes, diapers, a change of clothes, snacks, and any other emergency items. On top of that, there must always be separate pockets for the soiled clothes or dropped pacifiers. An extra organizer will ease the parents' stress immensely.
3. Soothing Sound Machine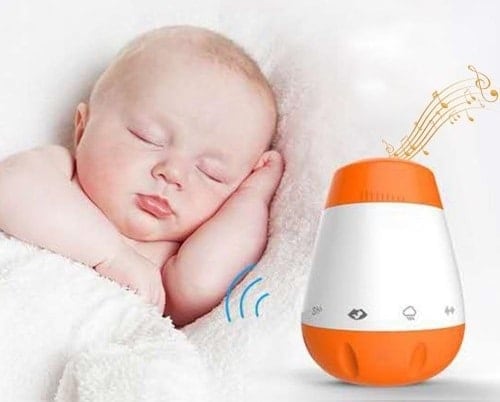 Babies are a lot of hard work and they need care and attention around the clock as they grow and learn about the world. This can cause many sleepless nights and irregular sleeping patterns, so any parent will be thankful for the thoughtful gift that is a soother sound machine. This type of machine is programmed to play soft music, ocean waves or white noise that can help the baby to calm down and fall asleep faster. Studies show that white noise reminds the child of the sound in the mother's womb and it's almost always guaranteed to work.
Be sure to check our "How to Ship Electronics" blog for packing tips on any sound machines. We want to make sure baby (and you as the sender) will get a good night's rest!
4. A Fast Bottle Warmer
A bottle warmer is one of the best gifts for expectant parents. This specific Philips Avent Fast Baby Bottle Warmer is the top recommendation by many as it heats gently and evenly in as little as 3 minutes and can keep the milk warm for about an hour. It can also help defrost milk or food quickly, an option that many other bottle warmers do not have.
5. A Milestone Blanket
Regardless of the parents' choice to share their new baby publicly on social media or not, a milestone blanket is a cute and unique baby shower gift idea because they will surely want to capture each moment. This is also a great way to remind them to send you any photos or cards as baby grows, so you won't miss a thing before your next trip to visit.
Milestone blankets are very popular among modern parents and they are a fun way to measure the baby's growth. There are blankets that can track the baby's age in days, weeks, months, and years. There are many that come with frames and other useful details that will make the photo shoot a fun a memorable experience.
6. A Survival Kit for the Parents
Even though a baby shower gift is self-explanatory, let's not forget the parents who will be needing (and cherishing) every moment of rest they can get. A so-called "survival kit" can help them relax and use their sleep time efficiently.
Bath salts and sugar scrubs are a go-to for this package, but you can also enrich it with coconut, avocado or any other type of oil for the mom's belly: mint or chamomile teabags for relaxation, sleeping masks for the parents so they can give their eyes the much-needed rest, and maybe some energy bars to help them push through the day. This can be super personalized with what you know the parents miss or crave from the US too!
Even with the distance between you and your new parent friends or family, a care package of even the smallest item to celebrate the birth of their child will close it. Stay connected with your friends and family abroad with PackageHopper's simple international shipping service. We love helping you feel close no matter what.
How are you going to be using PackageHopper? Let us know on our Facebook, Instagram, or Twitter!
More from the blog
Care Package Ideas for Overseas Students

The most popular items in care packages for students are food and snacks representing their culture or country. The idea is to remind them of home when they are far away from it. Click to check our care package ideas for overseas students now! Read more