Five Shipping Label Printers For Your Small Business
It's the new year, and it's time to bring your small business success to fruition. eCommerce is a wonderful venture that can flourish into your primary source of income if you put enough effort and hard work into your products and present fast shipping options to your customers. PackageHopper provides several options based on where you're sending to so you can choose the best shipping option for your business and customers.
While PackageHopper helps you take care of the shipping process once it leaves your door, preparing your small business for an influx of customers for the new year is helpful. Upgrade your printer to withstand the growing demands of your products in 2023. Here are some excellent shipping label printers available to improve your business practices:
Bluetooth Pink Thermal Label Printer, $95
Ditch the expensive toners and ink and print your shipping labels with no mess. This Bluetooth Label Printer is perfect for printing labels for virtually all platforms, including USPS, UPS, eBay, Esty, Shopify, Amazon, Poshmark, Square, Big commerce, Mercari, Wix, and so on. This thermal label printer supports Bluetooth connection to smartphones and tablets and includes a USB cable connection to Mac and Windows computers. It prints at a 150 mm/s printing speed, up to 72 sheets of 4"x6" labels per minute, to help you improve productivity and save time.
"I bought this little printer for my small business, to make branding stickers, create barcodes, and print shipping labels- all of which it can do, quickly and efficiently! Within about 5 minutes of getting the printer out of the box, I was printing labels. The app is easy to use- you can even make barcodes for your items right inside the app! I plan also to sell stickers and labels, so this little cutie is going to pay for itself." - Dana Lane.
OFFNOVA IM Bluetooth Thermal Label Printer, $95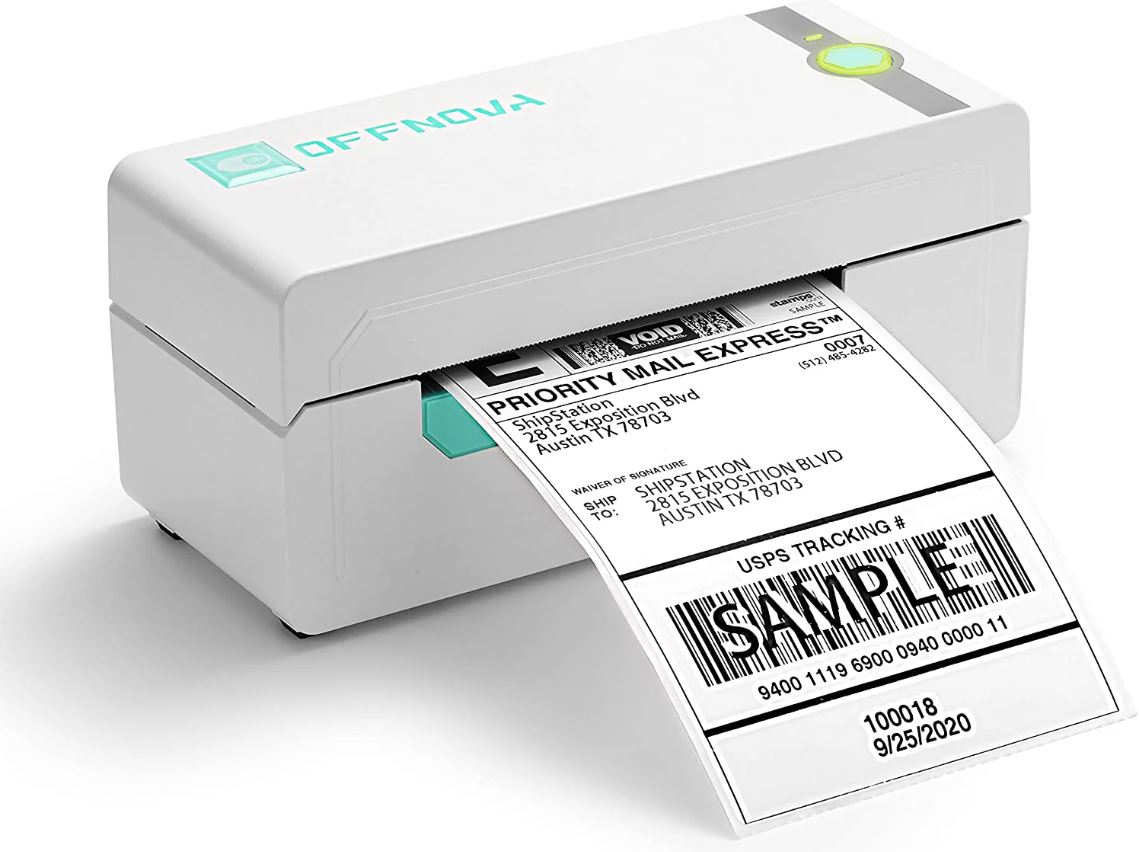 Speedy and practical, this Thermal Label Printer prints labels at a 150 mm/s speed and works for more than 12 continuous hours. Bluetooth is incompatible with Mac OS devices like MacBook but works with iPhones and IPads after installing a "Shipping Printer" app to pair your devices. Likewise, it can easily print wirelessly via Bluetooth-enabled Windows laptops. In addition, it's widely compatible with many shipping platforms like ShipStation, Shippo and marketplaces like eBay, Amazon, and Shopify.
"I love this printer! It quickly prints my shipping labels. The best part is that it was so easy to set up." - Betty.
Fangtek Commercial Grade Direct Thermal High-Speed Printer. $66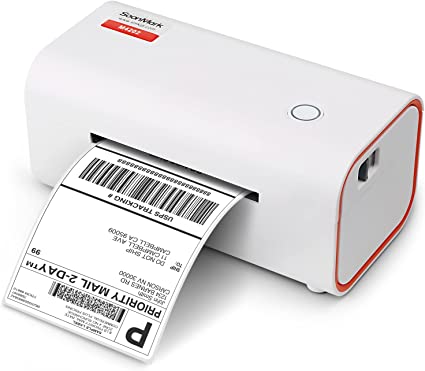 This premium Fangtek Commer Grade Printer is perfect for small and growing eCommerce businesses on a budget. With a 152 mm/s printing speed, the commercial standard thermal label printer can print 60 4"x6" high-quality shipping labels within a minute. It's easy to set up and works with Windows XP, 7, 8, 10, and MacOS. Unfortunately, it does not work with Chrome OS, Surface tablets, iPads, or phones.
"I was able to install this thermal printer on my MAC and have it work within 15 mins. I spent days trying to get the last thermal printer I purchased to work on my MAC, but the drivers didn't work. The instructions were verbalized electronically on their website with a pre-recorded YouTube video. Everything worked quickly and most of all it was easy!" - Elsa Barrios.
Phomemo 4"x6" Shipping Label Printer, $82
From the moment you receive the Phomemo printer, it's more than just a label printer. The design, shape, and color scheme add a festive and decorative pop to your home office. While cute and sleek, it also provides a fast and reliable way to print your labels - perfect for new start-up eCommerce stores. It also saves you money as it doesn't need ink and toner and works with any direct thermal label paper, which cuts your printing expenses in half!
"Definitely worth the price, and setting it up was really easy. No more printing labels on paper and sticking them on with clear tape, this printer saves me so much time and energy. It came with some labels and I was able to use those while I waited for my bulk order of labels to arrive. If you sell on sites like Mercari and Depop like I do and can't resize your labels in the app to fit on the 4x6 labels I recommend a site called fbatech, which resizes your labels in seconds for free." - CA, a verified purchaser
K COMER RX106F Shipping Label Printer, $80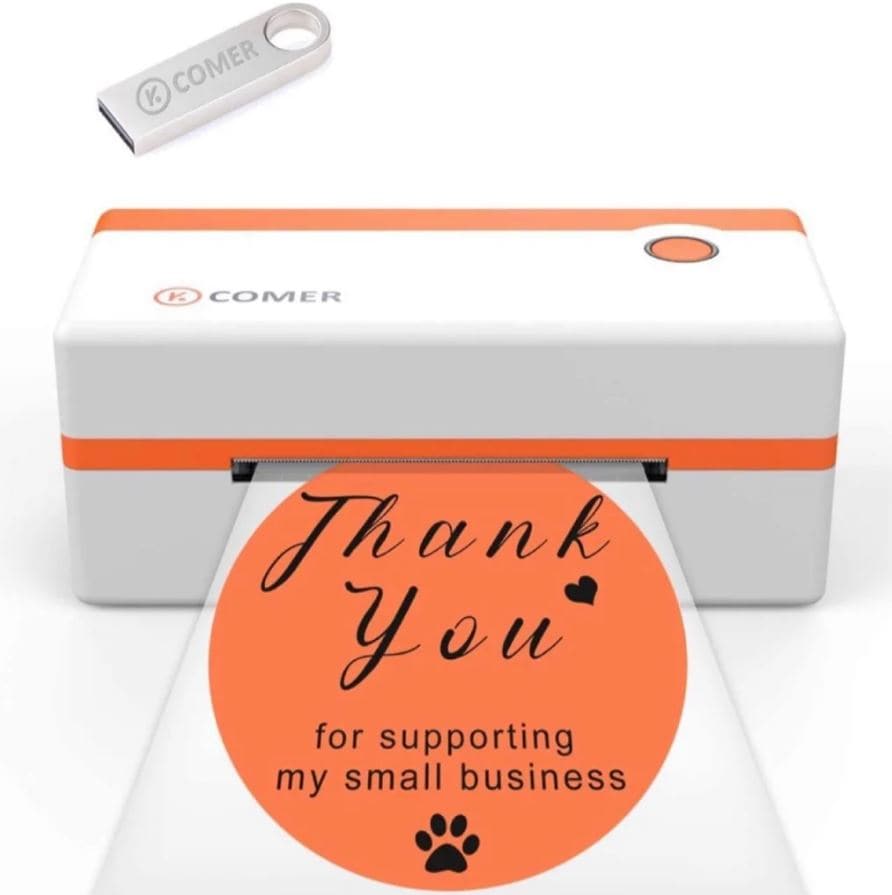 The K COMER RX106F is the premier shipping label printer that maintains stable printing performance, smooth paper output, and an apparent printing effect. The driver is optimized with an algorithm to make the RX106P label printer print more clearly, reaching a 203dpi resolution. It prints up to 72 labels per minute with minimum noise and works continuously for 12 hours. It meets all label size requirements and supports logistics platforms such as eBay, DHL, Shopify, Amazon, UPS, etc.
PackageHopper Can Benefit Your Small Business
PackageHopper offers the best rates and various fast, affordable shipping options thanks to our partnerships with reliable couriers like DHL, Australia Post, and FedEx.
As an eCommerce start-up or growing business, exploring all the best affordable resources available to grow your business, including shipping, is essential. Using PackageHopper, you can choose between various affordable shipping options to help you send to over 150 destinations worldwide. Broaden your customer base without breaking the bank with PackageHopper.
Our low rates are based on package weight only**, so what you see is what you pay, with no surprises! Check out our rates now to find the best shipping option for your wallet and small business. Review our Restricted & Prohibited Items page to ensure we can ship your items without issue.
How are you going to be using PackageHopper? Let us know on our Facebook, Instagram, or Twitter!