Fantastic Fall Care Package Ideas for Loved Ones
Fall is a time for family get-togethers, pumpkin spice lattes, and of course - care packages for loved ones, which are basically hugs in a box. This season is the perfect time to send a care package to a loved one overseas because they can enjoy the flavors of the season while they are away from home.
There are several upcoming fall celebrations across the globe, including Halloween, Diwali, and El Día de Muertos, and even though you don't need a specific reason to surprise someone you care about, you might wanna throw in an item or two that's holiday-specific. Or just send them their favorite stuff – the choice is entirely up to you.
Here are some ideas for fall care packages that will please a loved one who is away from home.
Hazel & Creme Chocolate Cookies Gift Basket, $24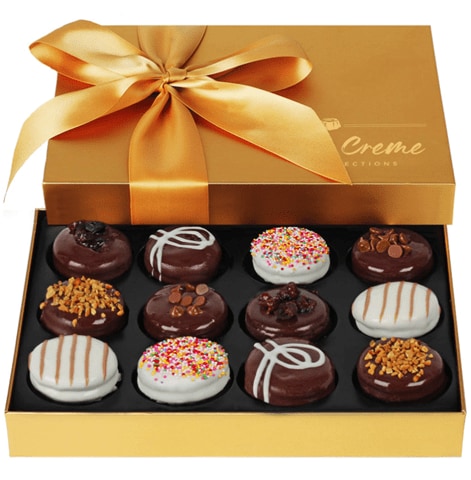 There's barely a person in the world who doesn't enjoy sweet treats, so this hazel and crème chocolate cookies gift basket will be an instant hit. Each piece is double-creamed and dipped in thick dark or white chocolate and enriched with different toppings. The gold box with 12 premium, handmade cookies will water the recipient's mouth, while the rich taste and different flavors will leave them wanting another box as soon as they finish the first one.
If this is your first time shipping perishables, you should definitely check out how to ship snacks.

"Fresh taste good variety, great as a gift. Wonderful if you are buying for yourself. Comes in a beautiful body with ribbon. Made them last a long time, a great reward for yourself." - Maricopa Newbie
Sending Sunshine Gift Box for Women, $38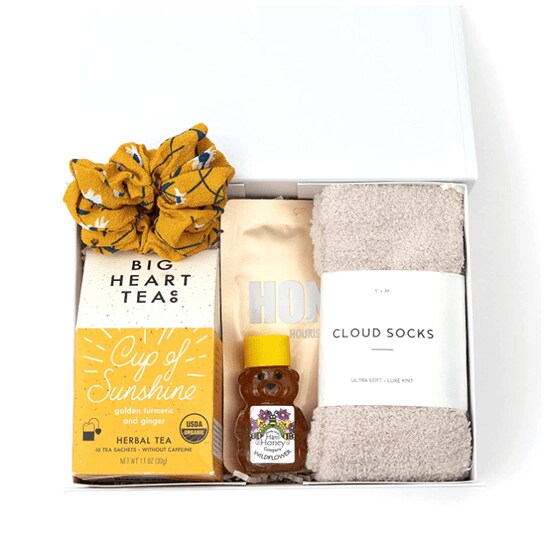 Women aren't complicated, we just want cozy care packages and attention – it's that simple!
For the favorite ladies in your life, we recommend a lovely care package for women in the colors of the fall that contains fuzzy cloud socks, herbal tea, some wildflower honey for it, a honey mask, and a gorgeous floral scrunchie. You can also choose to send one of the 9 customizable greeting cards to add that extra touch of warmth and closeness.
"My friend has cancer and she just found out it spread. We are both Florida girls so I felt what better gift to send her a cup of sunshine and some much-needed hugs. The best part was, the honey was from Florida (we both live out of state now). I had no clue. She was so excited. It really made the gift that much more special." - Magz B Mo
Halloween Care Package Gift Basket, $30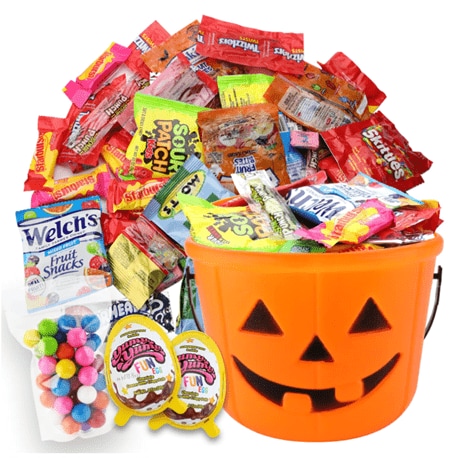 We're pretty certain that you won't find a better Halloween gift for the money. Some of the most delicious, all-American candies and snacks are included in this Halloween care package to make it the ideal Trick-or-Treat gift. You should definitely send it to a college student who is away from home to make their first Halloween abroad all the more exciting. The adorable pumpkin-like bucket is just a plus!
All the contents of this package are carefully handpicked with attention to detail and regular quality control checks, so you don't have to worry about the state they are going to arrive in at the destination country. Moreover, you can always rely on PackageHopper to deliver them for you in a timely manner!
"My Nephew does not eat chocolate so he doesn't like going trick or treating very much, so I wanted to send him something I knew he'd enjoy and this was the perfect gift. HE LOVED IT!! This was filled with all of his favorite things so 2 thumbs up for this item! Did I mention that it was delivered the very next day? Would definitely order this again." – acura871
Michael Grace Gifts Care Package for Men, $43
There is no such thing as a female or male-exclusive care package if we're being honest. We all need and deserve all the care and attention we can get.
A care package you've specially chosen for him is a wonderful way to let him know you're thinking about him while he's away! Of course, the package can include items that will remind him of you and home, silly items like crosswords or a puzzle of the two of you, and naturally - essentials he might require while he's gone. And since the weather outside is getting colder, make sure to include a soft blanket (and maybe even a few noodle soups) in the care package for him. He'll be forever thankful.
"My friend was getting over surgery and said the throw was very soft and nice to have....the other items were enjoyed as well." – Kathieinca
Stress Relief Gift Basket, $65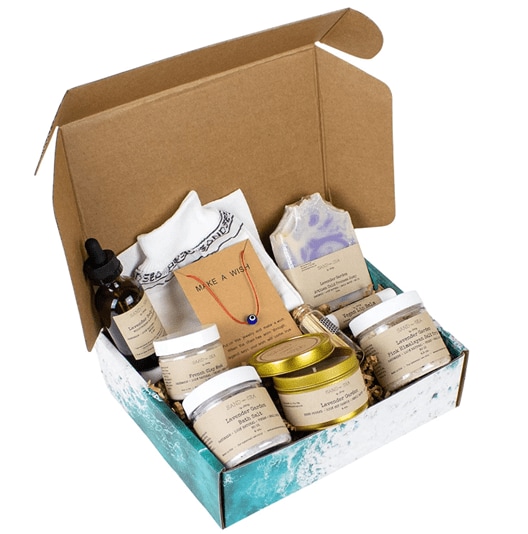 In this day and age, stress is affecting our lives at an alarming rate, so we should definitely use every resource we can to unwind. This specific stress relief gift basket contains a clay mask, Himalayan salt scrub, lavender body oil, a soy-wax ocean-scented candle, and even an Evil Eye bracelet, among other awesome items! On top of that, the package is handmade, vegan, and cruel-free, so that's one worry less!
"My daughter loved this gift set. It also came very personalized with a note for her and she wants things bought locally and supports small businesses. I checked every box and even got the beach theme she loves. Everything was packaged beautifully." - Maura Jean
Mark Your Calendar For Exclusive Deals
PackageHopper is excited to announce upcoming deals for the holiday season. If you place your FIRST ORDER between now and November 30, 2022, you'll receive an extra 15% off Shipping Costs using code HOLIDAYNEW15
Get your holiday gifts ready and save big when you use PackageHopper to send your gifts to loved ones around the globe.
What will you be shipping to your loved one this fall? Don't be a stranger and share your awesome ideas with us on our Facebook, Instagram, or Twitter.
More from the blog
2023 E-Commerce Trends & Expectations

What to expect in the ever-changing world of e-commerce in 2023? We rolled up our sleeves and dug into the trends and predictions that might just make 2023 the best year ever for e-commerce businesses! Curious? Click to read our insights. Read more