PackageHopper Explains: Shipping Insurance
Sending packages can be stressful, especially when it comes to international deliveries. Naturally, you want to ensure your package arrives safely and on time, but the reality is that sometimes things can go wrong. What if your package gets lost or stolen? What if it arrives damaged? These are valid concerns, and that's why shipping insurance is an important consideration.

At PackageHopper, our primary goal is to be honest and open with our customers, especially regarding fees that may affect your shipment. That's why we offer shipping insurance through PackageHopper Protect, which covers your package if lost or stolen up to the delivery time.

But what exactly is shipping insurance, and how does it work?
This article will explain why you need shipping insurance, how PackageHopper's shipping insurance works, and how to cover your shipment. So, whether you're shipping a valuable item to a friend overseas or sending a package for your business, read on to learn more about how shipping insurance can help protect your investment and give you peace of mind.
What is shipping insurance?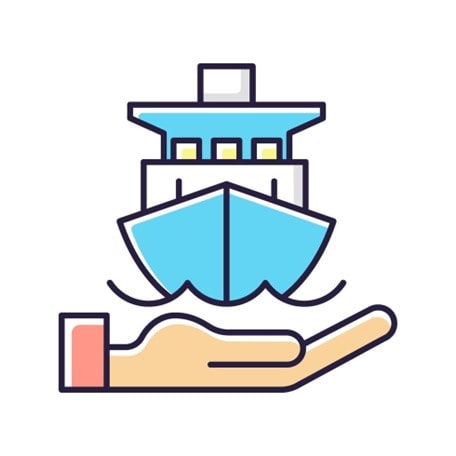 First and foremost, we must briefly explain the basics of shipping insurance, even though it is pretty self-explanatory.
Shipping insurance is a type of coverage that protects your shipment in case it gets lost, stolen, or damaged during transit. When you purchase shipping insurance, you pay a fee (usually a percentage of the merchandise value) to transfer the risk of loss or damage from yourself to the insurance provider. Then, if your package is lost, stolen, or damaged, you can file a claim with the insurance provider to recoup the value of your shipment.
So, while your item might not reach its destination, at least you'll get your money back to try shipping again later.
Why does PackageHopper add shipping insurance?
It's simple! At PackageHopper, we believe in being fully transparent with our customers. That's why we offer PackageHopper Protect, an optional insurance coverage covering your package if lost or stolen before delivery. We understand that sending packages is probably not your favorite thing to do. It requires proper packaging, filling out paperwork, and printing the correct shipping labels, so we want to give our customers peace of mind by offering insurance to protect their shipments.
How does PackageHopper's shipping insurance work?
When you create a shipment with PackageHopper, you can add PackageHopper Protect coverage. The coverage cost is based on your shipment's merchandise value.
PackageHopper Protect covers your package if lost or stolen before delivery, up to delivery time. The coverage costs $2.99 per $100 of merchandise value, up to a maximum value of $500. So, if your package is lost or stolen before delivery, you can file a claim for the value of the package contents.
However, it's important to note that PackageHopper Protect does not cover prohibited items, and our insurance doesn't protect against damage. Therefore, to ensure your package is delivered safely, it's important to pack the items securely in a sturdy, unused cardboard box and use additional protection like bubble wrap, packing peanuts, paper, or anything that will keep the item secured in its place.
Why do you need shipping insurance?
Suppose you're sending valuable or fragile items or shipping internationally. In that case, you may want to consider purchasing shipping insurance, as it will help a lot if anything happens to your precious package during transit. Without shipping insurance, you may be responsible for the total cost of your lost or damaged shipment, which can damage your reputation if you're a small business owner, among many other things.
In summary, shipping insurance is a small price for immeasurable peace of mind. This is why we encourage you to consider adding PackageHopper Protect to your shipment for added protection. Nothing in life is perfect, and you can never be too safe!
Use PackageHopper to ship your items today!
PackageHopper provides users with various fast and affordable shipping options with trusted partner carriers so you can ship your packages without worry. Enter your package information into our shipping calculator, choose your desired shipping method, provide your shipping details, and bring your item to the nearest drop-off location.
PackageHopper will take care of the rest of your package's journey through proper inspection and submitting any customs documentation. So just relax, as our trusted partner couriers like DHL and FedEx will transport your items to their destinations. PackageHopper is here to assist you, whether to help customers find the ideal gift for special occasions or ship multiple deliveries to any destination.