Your Guide to Packaging & Shipping Holiday Decorations this Winter
The holiday season is the time of year when people from all around the world come together and celebrate. The decorations, lights, and music are one of the most important parts of this celebration, and we cannot stress enough how much importance people pay to their winter holiday décor.
In fact, in 2021, total holiday retail sales reached new highs of almost 850 billion U.S. dollars, with the average American spending almost $1000 on Christmas décor and gifts only.
If the winter holiday season is of great importance to you and your loved ones from all over the globe, this article is for you. In it, we will discuss some packaging tips that will help you ensure your holiday decorations stay in good condition throughout shipping and reach their destination country on time and unscratched.
How to Prepare and Package Holiday Decorations for Overseas Shipping
So, after hours of browsing, you've finally made your decision as to which holiday décor pieces you're going to ship to your loved ones overseas.
But, how do you prepare and package your holiday decorations for overseas shipping?
There are a few things to consider.
Packaging material: You need to find the right packaging material that will protect your decorations from getting damaged during shipping. Your options include bubble wrap, foam peanuts, air pillows, or gift bags with tissue paper.

Since most decorative items are thin, made of glass, and very fragile, we recommend that you read our guide on how to ship delicate and fragile items easily.

Packing: It's extremely important to know just how fragile your item is because sometimes less can be more and more can be less, and you certainly don't want to overpack an item, just like you wouldn't want to "under pack" it. Either can do more harm than good and possibly damage the item you'll be shipping.
You need to pack the items in a way that will keep them from shifting inside the box during transit but not overdo it – a little wiggle room is just fine.
The good thing is that you can buy packaging and wrapping materials at any craft store or online retailer and then just try multiple options until you find the best one for your piece.
In the following section, we'll take 3 types of decorative pieces as examples.
1. Unbreakable items
These items do not require special care and handling because they're made of soft, cloth materials like cotton, polyester, elastin, etc.
Throw pillows and/or throw pillow covers, tablecloths, and pine garlands are just some of the items that are easily foldable and thus not prone to breakage.
Their original plastic wrap and the wrap provided by our carrier will be enough to protect your package all the way to its destination country.
2. Delicate but sturdy items
If you're going to be shipping a small artificial Christmas tree, a tabletop tree decoration, wooden Christmas tray décor, or even Christmas lights and flameless candles, you'll need to pay more attention to how you package them.
For instance, your small Christmas tree will be the safest with packing peanuts and a box that's just slightly larger than the tree itself (usually its original box).
On the other hand, you will definitely need to disassemble a Christmas tray décor like this one and bubble wrap each piece individually before putting it in an appropriately-sized box. You may have to add packing peanuts for extra protection.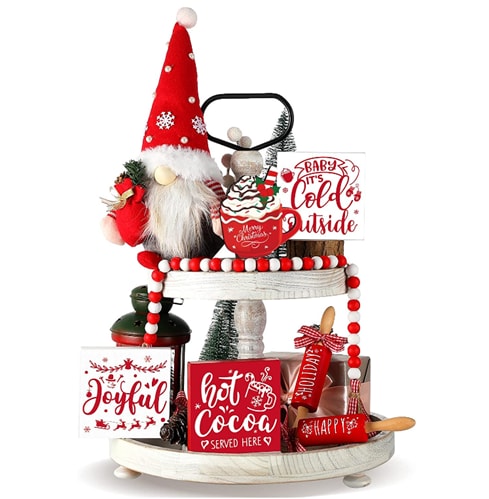 Trust your judgment and give your package a little nudge to check just how much wiggle room is in it.
3. Fragile items
Lastly, this is the category you should pay attention to the most.
Fragile items can require a lot of thinking and planning because one miscalculation can lead to a potential shipping catastrophe, and your receiver might end up with shards of what once had been a beautiful, delicate decorative piece.
When shipping items such as Christmas baubles, you might want to wrap each piece individually, then put them in a box with separators i.e. pieces of cardboard between them, and then bubble wrap the entire box for extra protection.
Finally, don't forget to add your Fragile label on the top or side of the box!
Check the Destination Country's Customs Website
Shipping to international destinations can be tricky.
For one, items that might be perfectly fine to ship to one country might be considered restricted or prohibited in another.
You should always carefully read the customs rules of your destination country and fill out any forms they might require of you.
Additionally, we, too, have a guide for restricted and prohibited items because our customers' safety is our first priority and we wish to give you a pleasant shipping experience that isn't breaking any laws.
Print Your Labels and Choose Your Carrier
Shipping labels contain the information your package needs to reach its destination.
If you mistype or enter the wrong information, chances are your package will be returned to you or get stuck/lost somewhere in transit.
There are tons of shipping label templates online, and many times they are provided by your carrier, but in case you wish to use your own, we recommend that you choose something as simple as this one: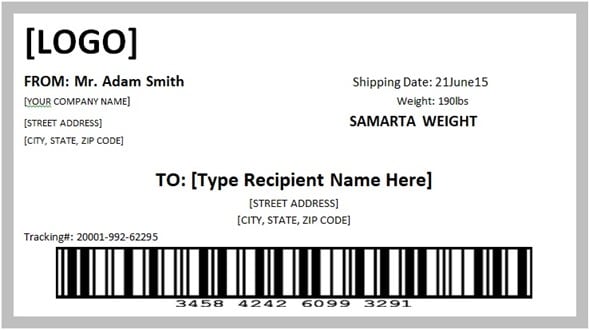 Naturally, we already have an article that explains how to create and print shipping labels in detail, so don't hesitate to check it out for any additional questions you might have.
Ship Internationally with PackageHopper
Once you choose, pack, and label your ornaments properly, the next logical step is to ship your items with PackageHopper.
Our main goal is to offer fast and reliable shipping with no hidden fees that will not leave your wallet empty. The price you see on the screen is the price that you'll end up paying!
Finding your shipping rate with PackageHopper is extremely easy; we calculate it based on your location's zip code, destination country, and package weight only and dimensions,
That's it! Those are the 3 things we need from you to give you a good and precise shipping rate.
We have partnered with USPS to provide you with over 143,000 drop-off points i.e. offices and boxes across the US, so finding one near you should be a breeze.
Our drop-off-location finder is here to help!
Finally, if you wish to know the exact location of your package at any time, simply use our package tracker by entering your shipment or tracking number.
That's it! You now know what your best options for shipping decorations overseas are.
How are you going to be using PackageHopper this holiday season? Let us know on Facebook, Instagram, or Twitter!