Shopify 101: What It Is and How To Get Started
Unless you don't use technology at all – in which case you wouldn't be reading this now – you've probably run into an ad about Shopify or heard it mentioned in a YouTube video. Maybe your colleague from work said he wanted to quit and focus on his new Shopify store, who knows? The name is everywhere and you can't help but wonder Shopify, can you use it, too, and if yes – how?
Ready to find out? Let's dive in.
What is Shopify?
In short, Shopify is a Canadian company that provides eCommerce software that enables entrepreneurs to set up an online store for their services. It is a cloud-based, multi-channel platform for businesses of all sizes and niches. In addition, there are quite a few free Shopify themes for beginners and veteran-sellers alike to choose from to make their store look professional and trustworthy to their potential clients.
The Shopify platform offers features like a Point of Sale (POS) system, inventory management, and shipping integration in 27 languages. What makes it even more outstanding is that they offer 30 different payment gateways, so there is no excuse for you and your clients not to deal with transactions on time.

The Shopify app comes with tools for SEO, marketing automation, social media, and customer insights. Research into those can help you grow your customer base immensely.
You don't have to become an SEO wizard, but a basic understanding can take you a long way.
For instance, these are the things to pay attention to the most:
Quality, relevant topics, titles, and subheadings
Choosing and adding relevant, highly-researched keywords to your pages
Creating, submitting, and updating your sitemap regularly
Optimizing the website's images for better speed
Linking to quality, ungated, and well-researched content
There are over 1 million businesses on Shopify, compared to 2018 when there were roughly 600.000 stores in the network. Considering that Shopify has been around since 2004, it's safe to say that it has seen immense, almost double growth in the past four years.

So, why not turn your small business idea into the next big thing?
Why Should You Use Shopify?
There are many benefits of using Shopify as your e-commerce service of choice. However, it's always best to try it first and then see what works for you from there.
The following are just some of the main benefits i.e., points as to why so many businesses choose Shopify over any other platform:
Easy setup
Absolutely zero skills are required to build your own Shopify store from scratch. Everything on the website and app is self-explanatory, and you can add, remove, and customize almost every corner of your virtual store.
24/7 customer service
Even in the event of unwanted issues, Shopify has 24/7 customer service which can be contacted via phone, email, or live chat. So depending on the urgency of your inquiry, you can easily get a hold of someone who can help you solve the issue.
Easy payment with many options
As we mentioned above, Shopify offers 30 different payment gateways, so you get to choose which works best for you and your business, or you can make individual deals with customers to meet them halfway and strengthen your relationship.
Security and reliability
Transactions and personal details on both sides must be protected by the current data privacy laws. Shopify is an established brand that pays the utmost attention to these things; thus your information will be safe at all times.

Unsure if you want to go with it?
Sign up for a free 14-day Shopify trial to try it out yourself. During your trial, you can create your online store, try out free Shopify applications, and even make your first sale if you know how to promote your products right (and with a little bit of luck). Shopify's price starts at $5 per month if you choose the Starter plan.
However, most first-time store owners begin with Shopify's Basic plan, which costs $29 per month. And if you've been in business for a while, you might select Advanced Shopify or Shopify Plus, depending on your current needs and budget.
How to Start Your Own Shopify Store in 3 Easy Steps and Start Selling
Yup, getting started on Shopify is as easy as counting to three:
Step 1: Create an account on Shopify.
This is as obvious as it can be. Choose a name that represents your business well, and make sure not to add a ton of unnecessary capitalization or numbers (unless that number is precise to your business).
Tip: create a new email address that nobody except you will know. Never use an email that tons of people already know. This will make it vulnerable to cyber-attacks and possibly endanger your store.
Step 2: Choose a theme for your store and customize your page with your desired features.
Choosing a suitable theme for your shop is more important than you think. After all, would you buy a baseball bat from a store that looks like it sells Barbie houses?
Step 3: Add your products and prices.
This is where knowledge of SEO can help a lot. Relevant images with good alt text and a product description with the right keywords will help crawlers 'understand' your product better, giving it a higher chance of appearing on the first page when people search for that specific product.

Naturally, never avoid listing your prices and other fees. Everyone wants to know how much they will be spending.
Pro tip: Install apps that can help you expand your business.
The Shopify apps and plugins, just like their themes, are available in two forms: free and premium. As of now, Shopify stores offer unlimited access to 2600+ Shopify applications. Marketing, sales, inventory management, reporting, and analytics are just a few applications available to help your Shopify store develop and flourish.
What Makes Shopify Different?
Although they have a nice and picturesque explanation on their website, we'll cover the basics in this section.

The all-in-one platform has a number of features that make it easier for your customers to buy from you, such as one-click checkout, social media integration, and customer analytics. This can quickly help you analyze which items are selling fast, why, and which need improvement (and why).

The key takeaways that Shopify's selling platform offers are:
Staggering 30 payment gateways so customers can pay for their purchases in a secure manner
A shipping module that lets customers choose the delivery service they want for their order
An inventory management feature that enables you to track how much stock is left on each product
Customer analytics where you can check customers' interest rates, how much time they spend browsing your store, which products they're interested in the most, etc.
POS feature that allows you to connect with shoppers in person by letting them know of your store or pop-up's physical location
Sales channels that let you advertise your products on social media platforms like Instagram, Twitter, and Facebook
How to Sell on Shopify with PackageHopper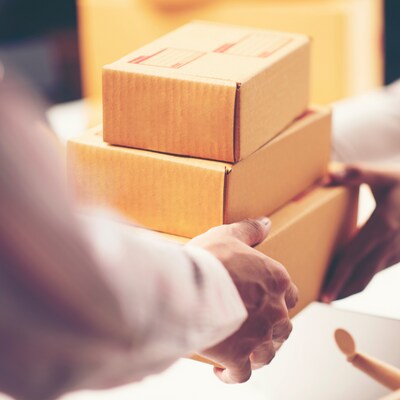 If you're wondering how to make your Shopify experience even more pleasant, the answer is to ship with us for a fast, smooth and safe shipping experience!
We've been around for 25 years, offering nothing but the best services to our fellow shippers; how else would've we stayed on top of our game for this long?
What we offer:
Fast and reliable shipping to over 210 destinations worldwide
Low-cost shipping options perfect for sending on a budget
One-click map with drop-off locations that are nearest to you
Accurate package-tracking system
What will you be getting? A pleasant, stress-free shipping experience and more time to focus on – and connect with – your customers.
How are you going to be using PackageHopper? Let us know on our Facebook, Instagram, or Twitter!