Surprise Your Friends with a Winter Care Package
Winter is a time for giving, and what better way to give than with care packages? A winter care package is a wonderful way of showing the people in your life that you care about their happiness and well-being, and it doesn't even have to be something huge and extra expensive.
There are a ton of different winter care packages you can buy or make from scratch for your friends. You can make a DIY winter care package with items like hot cocoa, holiday-themed socks, and other winter-themed goodies, or you can simply buy an already-made kit from a store with items like socks, gloves, hand crème, and chapstick, to name a few.
This article will cover the best items you can include in the perfect winter care package for your friends.
Cozy Winter Gift Basket, $42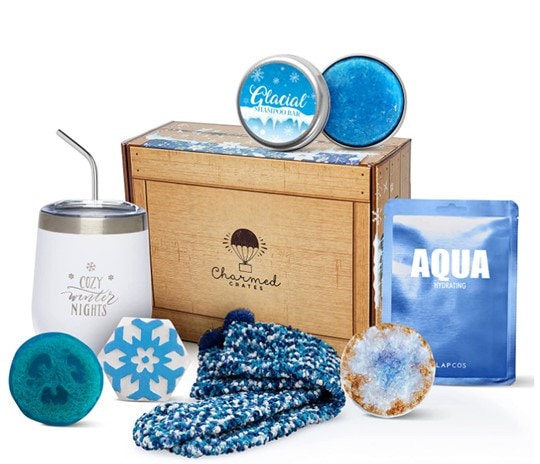 You can give your friend the ultimate experience with this cozy winter gift basket that consists of a stylish winter tumbler, fuzzy socks, a geode bath bomb, a snowflake moisturizing bath bomb, a loofah soap bar, hydrating face mask, and refreshing shampoo bar. This amazing self-care gift box will melt away the receivers' stress and leave them feeling refreshed, restored, and at peace.
Regardless of the occasion, a winter care package is ideal for showing a friend how much you care about their physical and mental well-being when seasonal depression rises.
"Sent this winter gift box as a get-well gift to my sister. She loved it!" – Anonymous Amazon Customer
Winter Care Package for Her, $40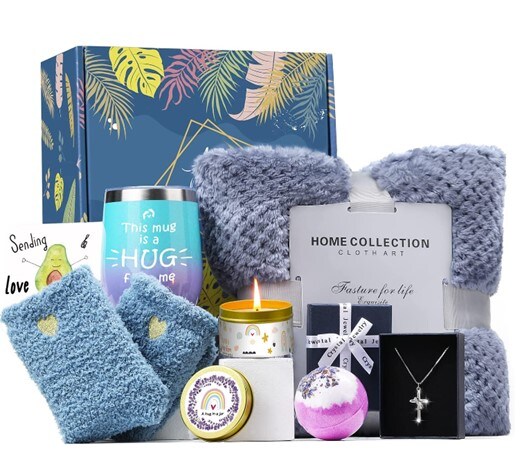 If you have a loved one who usually struggles with colds or seasonal depression, and you wish to make their days a bit brighter, look no further. This lux winter care package comes with a warm flannel blanket, a cross necklace with a diamond, a hug mug, a scented candle, fuzzy socks, a lavender bath bomb, and a sweet message card where you can add your most sincere wishes and thoughts.
Each item in the box is carefully chosen and made of premium, 100% safe materials.
"I got this as a gift for my niece, who had recently been ill and in the hospital. She was super surprised and excited to get this. The things inside were mostly exactly like the picture. The quality was also pretty good. Would purchase another one of these for family or a friend." – Mom of Queens
Premium Coffees of the World Gift Box, $100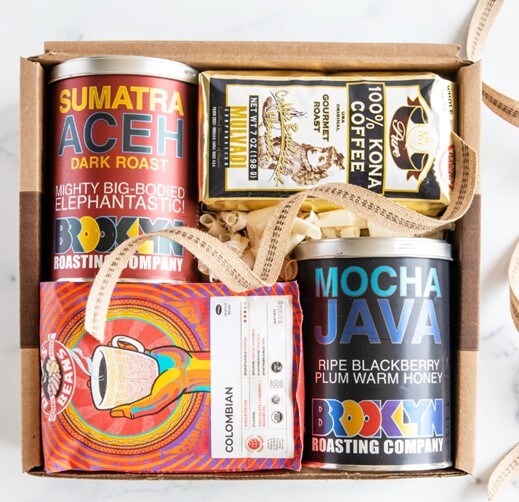 On Wednesdays, we wear pink, and on cold days we consume premium coffee – we didn't make the rules. If your friend is a coffee aficionado, nothing will excite them more than a box with carefully selected, rich coffee flavors. This coffee collection box includes four bags of whole-bean coffee from across the world: Indonesian Sumatra Aceh from Asia, Ethiopian Yirgecheffe from Africa, Organic Fair Trade Colombian from South America, and 100% Kona Coffee from Hawaii.
Each has a different flavor, strength, and smell, so your favorite coffee lover can indulge in a different taste every morning (and they can even mix the flavors!) to kick-start their day.
"Ohh, these are so gorgeous and fresh! The smell of rich coffee will hit your nostrils even before you open the box. As a lover of sweeter coffees, I am obsessed with the Aceh! You deserve this treatment. Go for it!" – Minin
Winter Care Package for Him, $28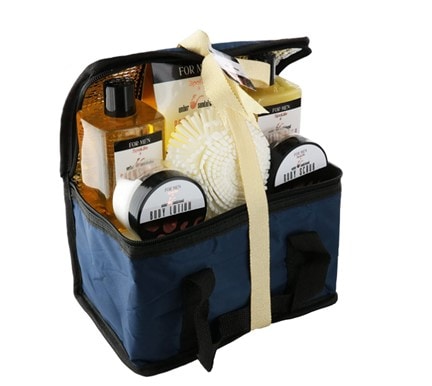 This 7-piece bath and body sandalwood package include a number of men's goods that will help your male friend relax and de-stress. The gift set includes a shower gel, bubble bath, body lotion, body wash, bath crystals, and a sisal sponge, all beautifully packaged in a paper suitcase.
This lovely collection of SpaLife men's goods will make an excellent present for birthdays, holidays, and other special events. In fact, you don't even need to wait for an event to give him an amazing, affordable gift like this one. Give that particular man in your life a present that will let him know how special he is – they need it more than they're willing to admit!
"Great gift, even after all of the gifts are out of the basket, it can be used as a travel bag for that person." – Jbunny
Are you ready to Ship Your Winter Gifts with PackageHopper?
If saving money is your priority, PackageHopper will help you find discounted rates with premium couriers so you can send to friends and family overseas without overspending. Thanks to our long-term partnerships with some of the best couriers in the world, PackageHopper offers the best rates and a variety of shipping options available.
Do you have packages you're ready to ship domestically or internationally? Then, get started today and see our various shipping options available!
How are you going to spoil your favorite friend this season? Tell us on our Facebook, Instagram, or Twitter, and don't hesitate to use our services to ship your care package to over 155 countries worldwide! We exist to assist you!
More from the blog
2023 E-Commerce Trends & Expectations

What to expect in the ever-changing world of e-commerce in 2023? We rolled up our sleeves and dug into the trends and predictions that might just make 2023 the best year ever for e-commerce businesses! Curious? Click to read our insights. Read more